You are WELCOME here.
There are several organizations that may say 'welcome.' At Pathways, we are sincere in our welcoming of all people. In this community, we come from all walks of life, all belief systems, all races and ethnicities, all genders and gender identities, all sexual orientations, all ages, all socioeconomic statuses, and the like. We are different because we do not discriminate and we begin this lesson with our children in religious education classes.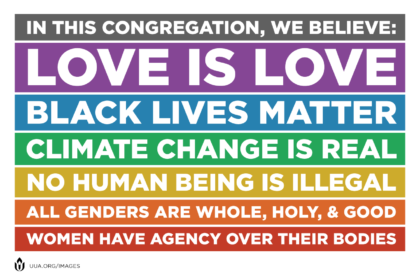 EXPLORE. SEEK. FIND.
Learn more about Pathways UU
---
Our Nursery

Our nursery is a small, cozy space that allows children to interact in a loving and nurturing atmosphere. Our children are encouraged to use their imaginations, interpersonal skills and a wide array of resources available to learn, play and grow together during Common Ground and Adult Discussion each Sunday morning. The nursery is managed by Teresa Wright and anyone who assists from time to time with the nursery have all undergone an extensive background check. We place the safety of our children first at Pathways Church.

Nursery is open from 9:30 a.m. to 12:30 p.m. each Sunday.
---
Do UUs Believe in Jesus?
Many ask us, since we are a church, if we believe in Jesus and how do we believe in Jesus. There isn't a simple answer to these questions. The teachings of Jesus are important to the history of the Unitarian and Universalist paths that we come from. To help answer this question, you will find a sermon preached at Pathways on New Year's Eve 2017 by The Rev. Thomas Squiers.
---
New to Unitarian Universalism?
Watch this video as a primer. You can also learn more about our Faith at
www.uua.org
. You can also
read this PDF
"100 Questions that Non-Members Ask About Unitarian Universalism."